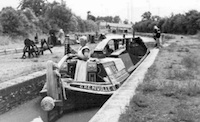 Jenny Glynn begins her interview with the declaration "I suppose I am a bit of living history as I was actually born on a working narrow boat called the Captain Cook. It was at Tusses Bridge on the North Oxford Canal at Coventry. Jenny describes in great detail the lives of her parents Ada and Dick Littlemore and her childhood which she spent on a working until she was 10 after which the family left the coal boat trade. She does not view the experience as one of privation although during the interview she talks about the family's life being tough and unrelenting.
She has many fond memories of her mother as very hardworking, inventive and very unusually for a boat woman, literate. In the photo of Ada, taken in the early 1950s, she is steering 'Grenville' through one of the Hillmoreton Locks on the Oxford Canal near Rugby and Jenny says "Behind her is my Dad on his boat 'Hood' exiting the lock on the far side with my cousin Sarah. I am standing with my cousin Joyce by the top gate ready to open it when the lock is full. My cousins are the daughters of my Aunt Nellie and Uncle Arthur Stokes, travelling behind our boats on their Ovaltine boats."  During the interview Jenny explains how she worked with Sheila Stewart, who wrote the iconic book Ramlin Rose about the lives of boat women which draws on interviews she carried out with Ada, Rose Skinner and others.
For more information about the lives of women and children on working boats, listen to Jenny's interview  (available from Autumn 2014) at the Oxfordshire History Centre.

The Ovaltine boats that Jenny talks about were owned by a company that made well-known brand of bedtime drink. Its factory in Kings Langley was located next to the Canal so it was a convenient way of getting coal and other supplies to the factory. Read more at http://trmt.org.uk/research-edu/historic-businesses/ovaltine/
Pages